element14 partners LCD specialist Kentec to expand its segmen
Release date: 2011-Dec-Wed
27 October 2011
Engineers will get to access the most advanced LCD components to meet Asia's growing demands from the mobile communication and industrial application sectors
element14 (formerly Farnell), the first electronic component distributor that fuses commerce and community, today announced its partnership with leading LCD specialist, Kentec, and the expansion of its inventory to include a comprehensive selection of LCD components that caters to a multitude of applications, Customers can enjoy 24/7 customer service and 24/5 technical assistance via element14 to address any components-related issues and obtain the necessary knowledge to help them fully utilise the solutions. Kentec provides engineers with the best display solutions to meet their increasingly rigorous design requirements, together with product specification papers, application notes and design software. According to market research firm, iSuppli, the need for small-and-medium size displays has increased by a significant margin in recent months due to the increasing requirements from mobile phone and tablet manufacturers to keep up with consumer demand. This is expected to drive and sustain the strong growth for panel display demand in the next quarters.
"We constantly innovate in the design, development and manufacture of LCD display modules," says Steve Leung, Director of Kentec Displays. "element14 provides engineers with extensive online resources as well as customer service for customers to readily access and design with our leading range of display products."
"With the rapid evolution in mobile platform technologies, engineers are constantly challenged to find advanced and reliable LCD solutions and integrate them seamlessly into increasingly sophisticated end product designs," says William Chong, Regional Director of Supplier Marketing, element14, Asia Pacific. "Our partnership with
Wide spectrum of display solutions stocked in the Asia Pacific
element14 offers a comprehensive range of products and solutions from Kentec that addresses the markets' needs for LCD Module, Microcontroller, Power Management and Mobile Communication. Engineers will be able to browse and select the latest LCD components, including touch panels, LCD modules, evaluation kits and expansion boards, to meet their evolving design and technical requirements.
Kentec's is a family of LCD solutions that comes in six different sizes, ranging from 3.2 inch to 9.0 inch. These LCD components also feature white LED-backlight which provides users with clear and crisp illumination for their displays. These modules also feature either resistive or capacitive touch screen options which support multi-touch inputs to support the essential applications.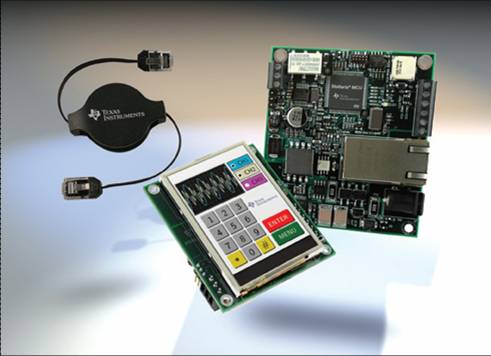 Since 2009, Kentec and Texas Instrument have been in joint product development for display solutions in Industrial HMI, resulting in a capacitive touch panel option with the TI controller MSP430.
Another solution available via element14 is , which has a built-in LED backlight driver circuit and 60pin Flat Printed Circuit (FPC) connector for the Kentec LCDs. With these boards, engineers can easily integrate Kentec LCD's solutions with the MCU development kits from STMicroelectronics or Embest, facilitating the product development efficiency and ensuring that the end product's functionalities are maximised.